这个别墅确实位于Antheor特色拱门的后面,距沙滩仅60米,位于美丽的自然保护区Massif de l'Esterel的山脚下。在别墅里就可以欣赏到大海和自然美景!
这栋别墅(约215平方米)有2个独立的单元,每个单元有3间卧室和一个大浴室。整个别墅一共有6间卧室,2个客厅,2个浴室,2个厨房和多个露台。
有一个小的"小型游泳池"和一个带各种座位的舒适花园,当然,大海几乎就是后花园!两个单元都装有空调。整个别墅最多可容纳12人,并且因为有两个设备齐全的单元,所以非常适合两个后者多个家庭一起共同租用这间别墅!
别墅布局:
通过楼梯进入一层,宽敞的大厅,第一间卧室(带有空调,位于前部的通往第一个阳台的滑动门以及位于侧面的通往露台的滑动门;阳台和露台都可以欣赏到Esterel山脉和大海的美丽景色!),
封闭式厨房(也带有通往侧阳台的门)。在这层楼上,有3间宽敞的卧室,所有卧室均配有双人床,衣柜和空调,带淋浴的现代化浴室,宽敞的宾客洗手间和可以通往地面的螺旋式楼梯。
一楼还设有一个私人入口,布局如下:
大厅,宽敞客厅(带有空调,开放式厨房和通往前露台的推拉门)。
同样在此楼层上,有3间卧室,其中一间配有空调和双人床。另一间带有上下床的卧室,第三间卧室也配有双人床。还有一间洗衣机房和一间带浴缸,淋浴,双洗脸盆和卫生间的宽敞浴室。
占地面积约1350平方米,花园装饰高雅,并设有一个大的砖砌烧烤架。
别墅旁边是一个露营地,那里设有一间不错的酒吧/餐厅/商店,在该地区,还可以找到许多其他的餐厅,商店,村庄和其他活动。您就位于摩纳哥和圣特罗佩之间的沿海路线上,更靠近戛纳和圣拉斐尔之间。
从别墅旁边的人行道您可进入美丽的自然保护区Massif de l'Esterel,在那里您可以散步数小时!
戛纳大约25公里远;因每年五月举行的电影节而闻名,但也因其美丽的林荫大道而闻名。在该地区,您会发现超过15个高尔夫球场;如果您想看海,那么是可能乘船游览的。该地区也有许多文化遗产。著名的地方,例如格拉斯,圣保罗德旺斯,穆然,瓦尔本内斯,上卡涅斯,埃兹和比奥。像Agay或Saint Raphael那样的普罗旺斯漂亮的市场也是必须去的地方!
In the high season you can only reserve the full accommodation with a minimum stay of 1 week; arrival and departure on Saturday. Outside the high season we accept reservations with a minimum stay of 4 nights with a possibility to only reserve 1 unit.
Season
From
Till
Price per
night
Price per
week
Mid
18-04-2020
04-07-2020
€ 375
€ 2.625
High
04-07-2020
29-08-2020
€ 475
€ 3.325
Mid
29-08-2020
10-10-2020
€ 375
€ 2.625
Low
10-10-2020
17-04-2021
€ 280
€ 1.960
Mid
17-04-2021
03-07-2021
€ 375
€ 2.625
High
03-07-2021
28-08-2021
€ 475
€ 3.325
Mid
28-08-2021
09-10-2021
€ 375
€ 2.625
Low
09-10-2021
16-04-2022
€ 280
€ 1.960
Mid
16-04-2022
02-07-2022
€ 375
€ 2.625
Prices for 1 unit outsite the high-season: at request
If you want to book this accommodation, you also agree to the following terms:
Caution: € 800 per booking
Linen package: € 20 per person
Final cleaning: € 200 per booking
Administration fee: € 45 per booking
Airconditioning: included
Tourist Tax: € 2,53 per adult per night
可用性
预订单
详细
Persons: 12
未成年人: 11
设施: Air conditioning, Audioset, Balcony, BBQ, Beachfront, Coffee Machine, Dining area, Dishwasher, DVD-player, Fireplace, Flat-screen TV, Free parking, Free WiFi, Freezer, Ironing Set, Microwave Oven, Outdoor pool, Oven, Pets at request, Private Pool, Refrigerator with Freezer, Refrigirator, Terrace, Washing Machine, Water Cooker
大小: 215平方米
床的类型 5张双人床,1张双层床
分类: Villa's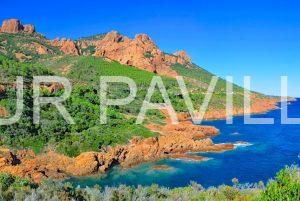 Fréjus & Saint-Raphaël: Roman seaside resorts at Esterel Mountains through Agay, Antheor all the way via Theoule-sur-Mer to Cannes
Today it is a popular holiday destination for families with children because of its beautiful sandy beaches, lively seafront and summer festivities.
Due to its location between St Tropez and Cannes with the Esterel Mountains at the back, Fréjus and Saint-Raphaël are also a very good base for trips, bike rides and walks for hours.
In Fréjus you will still find the remnants of the Roman era in many places.
If you're going to the direction of Cannes, along the coastal road, you will go through to the small coastal villages of Boulouris, Le Dramont, Agay and Anthéor where the Esterel Mountains falls into the Mediterranean Sea. Fréjus has, because of its ancient history an interesting historic center, highlighted are 'the Arenes' of Fréjus!
In this ancient amphitheater arena Roman gladiators we having their fights and now it is mainly an interesting tourist attraction where in summer regularly concerts are being organized. Another interesting visit is the aqueduct, the city walls and the city gates "Porte des Gaules" and "Porte de Rome"; a must see when you are in this region!
From Fréjus-Plage to the marina Port-Fréjus you will find a beautiful and wide sandy beach with a lively promenade, continuing all the way into Saint-Raphaël up to its cozy harbor. This long coastal promenade is lined with plane trees, cozy restaurants, tourist shops and sunday- and night markets. In this area of Fréjus & Saint-Raphaël are 5 different harbors so, the ideal place for watersport lovers. If you want to rent a sailboat or motor yacht? You can contact the 'Club Nautique de Fréjus' and the 'International Yacht Club de Saint-Raphael'.
Every year Saint Raphael has, ask well as St. Tropez it own Regatta. Also for the kids there is enough to do; The biggest theme parks can be found at Frejus, such as Aqualand Fréjus and the Luna Parc as well as the animal zoo: Parc Zoologique de Fréjus.
The tourist restaurants at the coast-line are often not as good as the restaurants in the center of Fréjus and Saint-Raphaël. Recommended restaurants are L'Amandier in Frejus and La Table de Saint-Raphaël.
In Saint-Raphaël famous 18-holes golf-courses are to be found like the Golf Valescure (the oldest golf courses in the South of France!) and also in the region many other golf courses are found like: Golf Blue Green d'Esterel, Golf de Roquebrune, Golf de Saint Endreol, Golf de Sainte-Maxime and Beauvallon but also, less than 20 km away, the famous golf course "Terre Blanche". From Fréjus and Saint-Raphaël, you can drive the famous "Route Corniche d'Or" towards Cannes.
This route is very worthwhile to do; a marvelous drive through the coastal line and the magnificent red Esterel Mountains, visiting Agay, Anthéor, Le Trayas and stop along the way to have a swim in the various Calanques. Another suggestion is to have a walk and follow a trail, for example, the route that starts at 'Col de Belle Barbe' or the 'route on the Cap Dramont'.

All these places Frejus, Saint Raphaël, Agay & Theoule-sur-Mer have their own railway stations.