Villa Souvenance, located at 600 m. from the sea, is a modern lower part of a large villa and can be rented out for 6 persons. You can be assured that, when you rent this villa, the upper part will not be used so the privacy is yours. The villa is located in a quiet domaine and not available for young groups. With this villa there is a great and panoramic sea view at the bay of St.Tropez; from Saint Raphael to Saint Tropez!
There is a garage and the layout of the villa is as follows: Gated driveway/entrance, place for 2 cars. Bright living with glass wall over the whole side with great sea-view and pool area. Dining room with modern and open kitchen with all suppliants and Nespresso machine. Connection to the bedrooms, hall with toilet and first bathroom with shower and washbasin, bedroom 1 with, private bathroom with shower and toilet, doors to the terrace at the pool, also the second bedroom also has doors to the terrace at the pool and the 3rd bedroom is situated at the side and backside of the villa.
Outside the terrace, with dining table, seats and sun loungers, offers great sea-view and offers an ideal climate for eating (bbq) reading or simply lay down, relax and enjoy the sun. The large pool with outside shower is waiting for you!
Between the French toppers Saint-Tropez (18 km) and Cannes (45 km) are the resorts of Saint-Aygulf and Les Issambres on the coastal road to Frejus and Saint-Raphael and Sainte Maxime on the coast road to Saint-Tropez. This stretch of the Riviera is known for its beautiful sandy beaches full of entertainment and the quieter, beautiful bays with gravel and sandy beaches. You will find fashionable marinas with priceless yachts but also small restaurants where you will be served excellent value for money. Visit Port-Grimaud (21 km), a fortified town by the sea, completely rebuilt in old style. Many older Grimaud (5 km away) and La Garde Freinet (15 km away), once a strong Moorish robber nest. Both towns are equipped with a castle with great views and located in the Massif des Maures, a rugged mountainous area where you create the most beautiful walks. Also you can see the striking 'Rocher', the rock of Roquebrune restrain (14 km, mountain boots is enough) You can start in the picturesque Provencal village of Roquebrune-sur-Argens, down the rock, to be rewarded in the end with a magnificent view the Mediterranean.
Weekly Provencal markets, rocky and sandy beaches, restaurants, atmosphere … everything is here for a wonderful holiday.
Down the hill of this villa you run into a nice restaurant at the beach. To go to Saint Tropez we suggest you to go to the harbor of Sainte Maxime and get the 'bateau vert', a bus-boat to St. Tropez by sea!
In the high season you can only reserve this accommodation with a minimum stay of 1 week; arrival and departure on Saturday. Outside the high season we accept reservations with a minimum stay of 4 nights and are other arrival and departure days possible.
| Season | From | Till | Price per night | Price per week |
| --- | --- | --- | --- | --- |
| Mid | 18-04-2020 | 27-06-2020 | € 300 | € 2100 |
| High | 27-06-2020 | 29-08-2020 | € 425 | € 2975 |
| Mid | 29-08-2020 | 26-09-2020 | € 300 | € 2100 |
| Low | 26-09-2020 | 24-10-2020 | € 250 | € 1750 |
| No availability | 24-10-2020 | 17-04-2021 | not available | not available |
| Mid | 17-04-2021 | 26-06-2021 | € 300 | € 2100 |
| | | | | |
If you want to book this accommodation, you also agree to the following terms:
Caution: € 750 per booking
Linen package: € 25 per person
Final cleaning: € 150 per booking
Administration fee: € 45 per booking
Tourist tax: € 2,30 per adult person per night
Availability
Reservation Form
Details
Persons:

6

Children:

5

Amenities:

Audioset, BBQ, Coffee Machine, Dishwasher, Flat-screen TV, Free parking, Free WiFi, Garage, Ironing Set, Microwave Oven, No Pets, Oven, Private Pool, Refrigerator with Freezer, Terrace, Washing Machine, Water Cooker

View:

City view

Size:

100m²

Bed Type:

3 double beds

Categories:

Villa's

Location:

Les Issambres & Sainte Maxime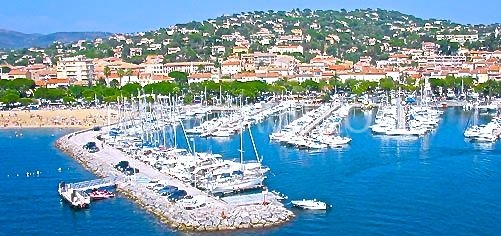 Sainte-Maxime is a very popular resort in the heart of the Gulf of Saint Tropez in the South of France. Because of its beautiful, long sandy beaches, charming town center and its convenient location between Saint Tropez and Cannes, is an ideal destination for a family holiday in the South of France. Within easy driving distance are the mundane Beauvallon with its famous golf course and inland you will find charming Provencal villages like Le Plan de la Tour. Strolling along the Promenade Simon Lorière, the beautiful, long boulevard with plane trees and palm trees, you get the real Côte d'Azur feeling. Just a game of jeu de boules with the locals, an ice cream at Fleurs d'Italie, a glas of rose wine at the terrace at Le Wafou ….. A must is to visit the cozy shops in the pedestrian streets where in the evening you will find the touristic markets, the covered market and also the many restaurants where you can have a delicious diner or lunch. To visit Saint Tropez, you can take te bateau vert (boat-taxi). This passage alone is a topper! The boat ride ends in the cosmopolitan port of Saint Tropez with its spectacular yachts and here are every Tuesday or Saturday the "Marché Saint Tropez". Do not miss this trip, without doubt the hippest and most vibrant market in southern France. The best beach bars of Sainte Maxime can be found at La Nartelle, towards Les Issambres. Towards Saint Tropez, La Croisette and Beauvallon also have very good beaches. In total you will find more than 11 km of sandy beaches at Sainte-Maxime! Boat lovers can enjoy their stay here! You can rent a sailboat or yacht in the harbor. Also jet skis, surfboards etc. can be rented at several places and if you want to dive the diving center H2O is pleased to welcome you. For children there is also a lot of entertainment. On the boulevard you will find several roundabouts and a small train. Older children can have the day of their life at Aqua Land with lots of water-slides or board on the Aqua Scope boat and enjoy the under water world from above. For golfers Sainte-Maxime is a top destination. La Nartelle has its slightly elevated "Golf de Sainte-Maxime" and more in the direction of Saint Tropez, you will find near the seaside the mundane "Golf de Beauvallon" golf course, surrounded by chic Domaines with luxury villas and beautiful sandy beaches. Within easy driving distance are also the golf courses of "Saint Endreol" and of course the beautiful Golf de Roquebrune. In the summer many restaurants and cafes along the promenade have LIVE music. Nightclub St. Hilaire gives you the opportunity to party until early morning. Also to mention is the Casino on the boulevard where you just can try your luck. Grocery can be bought on the boulevard. There are two Petit Casinos but in the direction of Le Plan de la Tour there is a large shop of Carrefour. The covered market in the center is great for fresh fish (early in the morning) and other fresh products. Le Plan de la Tour is less than fifteen minutes drive from Sainte-Maxime and just half an hour from Saint Tropez Here you will find a totally different atmosphere. The peace of a charming village in the shade of the plane trees…..The road to Le Plan de la Tour leads to nothing else and that is why this charming Provencal Village has been preserved. Because Le Plan de la Tour is located in the heart of the Maures massif, it is surrounded by natural beauty and is therefore also a very good starting point for hikers!!