In the green area of La Bouverie you will find this beautifully situated villa Cigales with private pool, separate bar and Dart area and sleeping space up to 11 persons.
The villa is fully equipped with air-con, not far from the shopping center, near connecting roads to the old village of Roquebrune-sur-Argens and the Lac Arena.
Going to the other side you are close to a shopping centre with daily fresh bread. The beaches are at about 15 minutes drive.
The lay-out of the villa is as follows: Closed gate with parking place for 4-5 cars, bar-area with large table and dart-place, entrance villa, living room with enormous couch, air con, stairs to the 'vide' with again a large sitting area with 4 extra sofa beds. Via the living there is a connection to the modern and well equipped kitchen with all appliances. The living and kitchen both have fully opening sliding doors to the large terraces along the villa. The first bedroom has 2 single beds and stairs to an open upper floor with extra dressing and 3rd bed. Connected is the first bathroom with shower and toilet. The second bathroom has a bathtub, double washbasin and separate toilet. The second bedroom, also with 2 single beds has a connection to the 3rd modern bathroom with shower, washbasin and toilet. Via the hallway the wasmachine area can be reached with washing machine and dryer and the 3rd bedroom, situated at a higher level. Again with 2 separate beds and its own bathroom with shower and toilet. The pool can be heated which can be very nice in the mid- and low- season and in the garden there is also a 'Jeux-de-boules-court'.
Close to the area you find, next to the old centre of Roquebrune-sur-Argens, the Provençal village's of La Motte and Le Muy, all charming villages offering a variety of activities during the summer. There are numerous restaurants, cafes, shops, supermarkets, bakeries, butchers, and wine domains. The city of Les Arcs-sur-Argens is within 15 minutes drive with the well-known wine chateaux Font du Broc and Sainte Rosaline. Other wine domaines as Grand Esclans, Chateau des Desmoiselles and Domaine Jas de Esclans are situated at a few km.
Coastal places as Sainte Maxime and Frejus are at about 15 to 20 minutes' drive with the nearest beaches. To avoid the busy coast-way in the high season, you can also reach Sainte Maxime and Saint Tropez by boat (bâteaux verts) from Les Issambres and Saint Raphaël. This boat trip at the Mediterranean is highly recommended!
Lake St. Croix in the Gorges du Verdon is a beautiful lake with water peddle's and private little beaches at about 35 km and also definitely worth a visit. Nice, Toulon and Marseille airports are easily accessible and Toulon and Nice are at about 1 hour's drive.
In the high season you can only reserve this accommodation with a minimum stay of 1 week; arrival and departure on Saturday. Outside the high season we accept reservations with a minimum stay of 4 nights and are other arrival and departure days possible.
Season
From
Till
Price per
night
Price per
week
Mid
18-04-2020
04-07-2020
€ 250
€ 1750
High
04-07-2020
29-08-2020
€ 350
€ 2450
Mid
29-08-2020
10-10-2020
€ 250
€ 1750
Low
10-10-2020
17-04-2021
€ 165
€ 1155
Mid
17-04-2021
03-07-2021
€ 250
€ 1750
High
03-07-2021
28-08-2021
€ 350
€ 2450
Mid
28-08-2021
16-10-2021
€ 250
€ 1750
Low
16-10-2021
16-04-2022
€ 165
€ 1155
Mid
16-04-2022
02-07-2022
€ 250
€ 1750
If you want to book this accommodation, you also agree to the following terms:
The prices are set with an occupation of 7 persons.
Extra beds, up to 11 persons, € 50 per person per week.
Caution: € 750 per booking
Linen package: € 20 per person
Final cleaning: € 200 per booking
Pool heating at request: € 100 per week
Airconditioning: included
Administration fee: € 45 per booking
Tourist tax € 2,53 per adult per night
Availability
Reservation Form
Details
Persons: 11
Children: 10
Amenities: Air conditioning, Audioset, BBQ, Coffee Machine, Cooling fans, Dining area, Dishwasher, DVD-player, Free parking, Free WiFi, Freezer, Laundry Dryer, Microwave Oven, Outdoor pool, Oven, Pets at request, Pool Heating, Private Pool, Refrigerator with Freezer, Refrigirator, Satellite TV, Terrace, Washing Machine, Water Cooker
View: City view
Size: 200m²
Bed Type: 7 single beds, 4 x 1 pers. sofa beds
Categories: Villa's
Location: Roquebrune-sur-Argens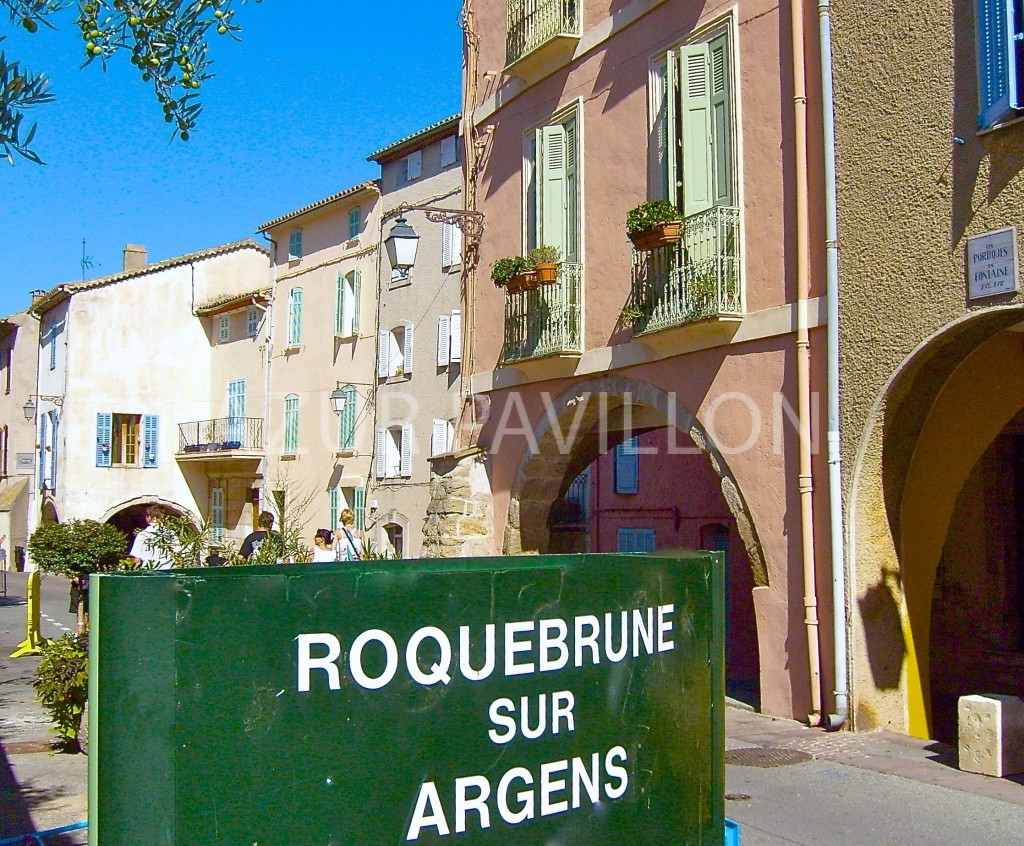 Roquebrune-sur-Argens
The picturesque Provence style village of Roquebrune-sur-Argens (late 1200) is situated at about 10 minutes from the coastal villages as Les Issambres and Saint Aygulf. The last one connects on the coast with Frejus and Saint Raphaël, Les Issambres goes direction Sainte Maxime, Port Grimaud and Saint Tropez. All with the great atmosphere of the Côte d'Azur.
Roquebrune-sur-Argens is connected to the Argens river and has plenty of water sports activities, from kayaking to waterskiing, also due to the Lac Arena, situated just outside the old village. Roquebrune-sur-Argens thanks its namen due to the large 'Roc' / 'mountain' on the edge of the village. Here you can find spectacular hiking and mountain biking trails scattered all round. In the area you will find a beautifully situated 18-holes golf course, lots of Provencal vineyards, historic churches and museums so this is also a perfect spot to get some of the local culture. Furthermore, in the historic center of the village there is 2 x a week a Provençal market. Furthermore here are nice little restaurants and of course plenty of small shops.
Roquebrune is separated into 3 different area's, La Bouverie, Le Village and Les Issambres.
La Bouverie is located in the Hills and is the most peaceful area, with plenty of trails, this is a perfect spot for nature lovers.
Le Village is the center of the old town, little streets and historic building are common here, you will find lots of markets and small shops but also churches and museums. Just outside the center is a large lake (Lac Arena) with all kinds of water sport and play activities for children.
Les Issambres is the coastal part, entirely bordering the coast, you will find plenty of beaches, both sand and rock. Les Issambres is also filled with restaurants and shops on the coastal walkway.