Villa Le Gand Duc, villa  for 8 persons with great sea-view and private pool, situated just before Cannes in Mandelieu/La Napoule.
Close to Cannes, a few minutes from the beaches, the harbor of La Napoule and the center of Mandelieu with all shops and restaurants is this villa situated  in the beautiful domaine "Le Grand Duc" with various luxury properties. This luxury and 24/7 secure domaine, including a caretaker, security service and alarm center,  is located in an area of ​​approximately 100 hectares. There are various sports facilities including a gym, tennis court, 2 x 18-hole golf courses, a 9-hole golf course "Old Course" and "Barbossi Golf"; the former "Riviera Golf".
You will find this cozy villa with private pool and GREAT SEA VIEW to the bay of Cannes and the Lérins island, Sainte-Marguerite en Île Saint-Honorat at the dead end of a quiet street. There is a bright and luxurious living with a large terrace continuing into the garden and on the living level there are 3 bedrooms and 2 bathrooms. Furthermore a separate ground floor apartment with another bedroom and bathroom.
The format is as follows: entrance and separate entrance to the garage. Closed and private patio with cozy seat, entrance to the villa with hall and guest toilet, door to laundry room with washing machine, door to the garage. Bright living with lounge and dining area and at 2 sides windows with sliding doors to the terrace with 'Pergola" and a sun cover.
Connection to the Provençale kitchen with most appliances and again doors to the dining terrace with and an outdoor lounge area.
The first 3 bedrooms are situated at the same level, all with a double bed and all with doors to the garden. There are 2 bathrooms, one with shower and toilet and the second one with shower, bathtub and toilet.
The separate apartment is to be reached at the lower level of the villa and has a living with lounge area and kitchenette, a bathroom with shower and toilet and a bedroom with double bed and doors to a sunny terrace.
The bedrooms on the ground floor in  the villa are  equipped with airconditioning.
The garden is well maintained and at the level of the apartment there is a large pool (11m x 5m) and some seats.
At the lawn around the villa one will also find some nice seats and sunbeds to enjoy a wonderfull and relaxing holiday!!
The location, at the Bay of Mandelieu / Cannes, is a few minutes from the beaches and the port of La Napoule, the center of Mandelieu with all shops and restaurants and access to the A-8 to Cannes (10 min), Nice airport (20 minutes), Monaco and Monte Carlo (30 minutes) and Sainte Tropez about 40 minutes. All  amidst the life of the French Riviera, something closer between to Cannes with its  famous by the film festival held each year in May, but also for its beautiful boulevard. Also Saint-Raphaël is at about 20km to the other side. In the area you will find more than 15 golf courses. If you want to enjoy the water then there are several boat trips possible. You may even want to rent a jet ski? There is also find plenty cultural heritage in the region. Famous places like Grasse, St. Paul de Vence, Mougins, Valbonnes, Haut-Cagnes, Eze and Biot. At Antibes you will find the Picasso Museum and in Cagnes sur Mer the house of Renoir. Also recommended is at Cap Ferrat the Villa of the Rothschild family with its beautiful garden.
You can reserve this villa with a minimum stay of 1 week; arrival and departure on Saturday
Season
From
Till
Price per
night
Price per
week
High
27-06-2020
29-08-2020
€ 600
€ 4200
Mid
29-08-2020
20-09-2020
€ 445
€ 3115
High
26-06-2021
28-08-2021
€ 600
€ 4200
Mid
28-08-2021
19-09-2021
€ 445
€ 3115
High
25-06-2022
27-08-2022
€ 600
€ 4200
If you want to book this house, you also agree to the following terms:
Caution: € 1.000 per booking
Linen package: included
Final cleaning: € 200 per reservation
Airconditioning: included
Administration fee: € 45 per booking
Tourist tax : € 2,25  per adult per night
Nr. taxe de séjour Mandelieu: 06079002702AK
Availability
Reservation Form
Details
Persons: 8
Children: 7
Amenities: Air conditioning, Audioset, Balcony, BBQ, Beachfront, Coffee Machine, Dining area, Dishwasher, DVD-player, Fireplace, Flat-screen TV, Free parking, Free WiFi, Freezer, Garage, Ironing Set, Microwave Oven, Outdoor pool, Oven, Pets at request, Private Pool, Refrigerator with Freezer, Refrigirator, Terrace, Washing Machine, Water Cooker
Size: 200m²
Bed Type: 4 double beds
Categories: Villa's
Location: Antheor / Agay / Theoule-sur-Mer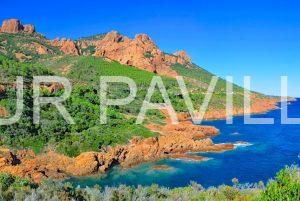 Fréjus & Saint-Raphaël: Roman seaside resorts at Esterel Mountains through Agay, Antheor all the way via Theoule-sur-Mer to Cannes
Today it is a popular holiday destination for families with children because of its beautiful sandy beaches, lively seafront and summer festivities.
Due to its location between St Tropez and Cannes with the Esterel Mountains at the back, Fréjus and Saint-Raphaël are also a very good base for trips, bike rides and walks for hours.
In Fréjus you will still find the remnants of the Roman era in many places.
If you're going to the direction of Cannes, along the coastal road, you will go through to the small coastal villages of Boulouris, Le Dramont, Agay and Anthéor where the Esterel Mountains falls into the Mediterranean Sea. Fréjus has, because of its ancient history an interesting historic center, highlighted are 'the Arenes' of Fréjus!
In this ancient amphitheater arena Roman gladiators we having their fights and now it is mainly an interesting tourist attraction where in summer regularly concerts are being organized. Another interesting visit is the aqueduct, the city walls and the city gates "Porte des Gaules" and "Porte de Rome"; a must see when you are in this region!
From Fréjus-Plage to the marina Port-Fréjus you will find a beautiful and wide sandy beach with a lively promenade, continuing all the way into Saint-Raphaël up to its cozy harbor. This long coastal promenade is lined with plane trees, cozy restaurants, tourist shops and sunday- and night markets. In this area of Fréjus & Saint-Raphaël are 5 different harbors so, the ideal place for watersport lovers. If you want to rent a sailboat or motor yacht? You can contact the 'Club Nautique de Fréjus' and the 'International Yacht Club de Saint-Raphael'.
Every year Saint Raphael has, ask well as St. Tropez it own Regatta. Also for the kids there is enough to do; The biggest theme parks can be found at Frejus, such as Aqualand Fréjus and the Luna Parc as well as the animal zoo: Parc Zoologique de Fréjus.
The tourist restaurants at the coast-line are often not as good as the restaurants in the center of Fréjus and Saint-Raphaël. Recommended restaurants are L'Amandier in Frejus and La Table de Saint-Raphaël.
In Saint-Raphaël famous 18-holes golf-courses are to be found like the Golf Valescure (the oldest golf courses in the South of France!) and also in the region many other golf courses are found like: Golf Blue Green d'Esterel, Golf de Roquebrune, Golf de Saint Endreol, Golf de Sainte-Maxime and Beauvallon but also, less than 20 km away, the famous golf course "Terre Blanche". From Fréjus and Saint-Raphaël, you can drive the famous "Route Corniche d'Or" towards Cannes.
This route is very worthwhile to do; a marvelous drive through the coastal line and the magnificent red Esterel Mountains, visiting Agay, Anthéor, Le Trayas and stop along the way to have a swim in the various Calanques. Another suggestion is to have a walk and follow a trail, for example, the route that starts at 'Col de Belle Barbe' or the 'route on the Cap Dramont'.

All these places Frejus, Saint Raphaël, Agay & Theoule-sur-Mer have their own railway stations.